Keeping your home looking nice on the outside can go a long way towards improving the drive up appeal of your home. This will not only make your home look attractive for your neighbors but can increase the overall resale value of your home. The garage door is often a focal point of the home and is one of the first things people see as they drive by, making it a simple way to increase both drive up appeal and your home's resale value. Here are a few things to consider before you schedule a garage door replacement.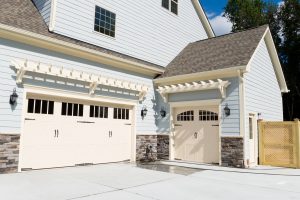 Pick the Right Material
Garage doors are available in several common materials: wood, steel, fiberglass, and aluminum. Each material has different pros and cons. There's no right choice here; it's all about personal preference and your home's needs. Some garage doors are better at insulating your garage and home, making them more energy efficient and eco-friendly. Others are more durable when subjected to severe weather and wind common during hurricane and tornado season. Knowing what kind of material is a better match for your space will help you make the right decision.
Color Matters
New garage doors can be painted and textured to match or compliment the exterior of your home. Don't settle for a factory-standard paint job. Remember that the garage door is one of the most noticeable features of your home's exterior. Should you decide to sell your home, you'll benefit most by keeping the front beautiful.
Take these things into consideration before you start your home improvements this summer. Upgrading your garage is a simple and affordable improvement that can dramatically increase the drive up appeal of your home and thus increase your home's resale value. If you're looking for a new garage door, contact Lifetime Garage Doors.