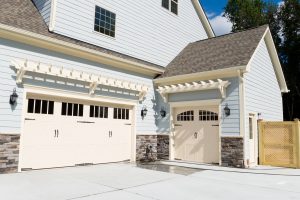 June is National Garage Door Safety Month and with all the summer festivities, it's easy to overlook safety precautions in your garage. Here are a few things to keep in mind to help you stay safe with your garage.
Remotes are not toys. Supervise your children when they use the garage door opener and emphasize the fact that the remote is not a toy. While it may be fun to watch the door move up and down, it can also be a hazard. Remember, many doors can pinch your child's fingers and may result in serious injury.
Always make sure you close your garage door when you leave. This will keep would-be thieves out and keep your belongings safe.
Close your door completely. If your garage door is cracked open, it may try to close when you hit the remote next. If an object is underneath the door, it may become damaged when the door closes. While many newer garage door openers have a sensor that reverses the door's path when it detects an object, accidents do happen.
Check for wear and tear on your garage door system. If the springs look rusty or the rollers look worn, call an expert to get your door serviced. Garage door repairs are often dangerous and can result in injury if not performed properly. Trusting an expert with your repairs will keep your garage door maintained and keep you safe.
Stay safe this summer and get your garage door repairs performed by a certified technician. Contact Lifetime Garage Doors today to schedule an appointment!